Warwick - Entry Level Police Officer
---
CHIP Participating
---
Job Announcement
CITY OF WARWICK
POLICE DEPARTMENT

2023 Recruitment Drive
The Warwick Police Department is seeking qualified applicants for the position of Police Officer who demonstrate good judgment, an even temperament, respect and appreciate diversity, show creativity and problem-solving skills, think on their feet, handle pressure, and show leadership skills.
Applications are now being accepted at all times with no closing date. All applications received 12/31/22 or earlier will be reviewed and considered for future employment for the August 2023 RI Municipal Police Training Academy. All applications will be completed and processed through www.policeapp.com/WarwickRI . Applicants will be notified of the details of written examination shortly after submission of their application.
Visit us on YouTube to view what the WPD has to offer!
https://www.youtube.com/watch?v=5YxGRumg4cA
APPLICATION QUALIFICATIONS:
U.S. Citizen
21-35 years of age (may not have reached your 36th birthday by the date of application)
Valid motor vehicle operator's license
High school Diploma or GED
Minimum 30 college credits as of today's date from an accredited institution recognized by the U.S. Dept of Education OR
1 year full-time employment as a police officer, corrections officer or equivalent law enforcement experience at an agency with arrest powers by the date of application OR
1 year active or reserve military service by the date of application
Good moral character
(Previous applicants who have been disqualified during the background phase must wait 1 calendar year from the date of disqualification before re-applying. All other previous candidates may reapply at anytime)
APPLICANT SELECTION PROCESS:
The application deadline to participate in the January 2023 testing process is December 31, 2022. The Warwick Police Department conducts their recruitment drive events on a biannual schedule and administers the Written Examination and Oral Board Interview every 6 months for all candidates who have applied in that 6 month timeframe and have completed an agility test with one of the approved vendors. All applicants will be notified of their test dates via PoliceApp.com shortly after submission.
Electronic application submission – www.policeapp.com/warwickri
Physical fitness test – Schedule through Fit 2 Serve or Certify Fit (mandatory for all applicants)
Written examination – August 19, 2023
Oral interview(s) – August 28, 2023
Eligibility list established – August 29, 2023
Background investigation
Medical examination
Psychological examination
RI Municipal Police Academy
One year probation period including FTO program
Permanent appointment as a police officer
*The Warwick Police Department is only accepting physical agility test results from the Fit 2 Serve company as well as the CHIP test through Certify Fit. Prior to attending the written examination, you must have passed an agility test with one of these companies. Upon completion of the agility test, email Officer Jeremy Smith at jeremy.smith@warwickri.gov with your results. The Warwick Police Department has no affiliation with Fit 2 Serve or the Certify Fit organization.
To schedule a test with Fit 2 Serve, visit https://www.fit2serveri.com/ .
To Schedule a CHIP test with Certify Fit, visit https://www.certifyfit.com/chip-test/
DOCUMENTS NEEDED FOR ORAL INTERVIEW:
(Note: Applicants who are unable to provide the following documents at the oral interview will be removed from the process)
A certified copy of your birth certificate or naturalization papers.
A photocopy of your driver's license.
A photocopy of your college diploma and a certified copy of your college transcript.
Proof of military service (DD-214, NG-21, etc...)
Police/Corrections Academy diploma.
Confirmation of Selective Service Registration (males only)
SALARY AND BENEFITS:
Annual salaries as of July 1, 2022:
First Year $49,324 Second Year $63,247
Third Year $70,376 Fourth Year $79,508
The typical workweek consists of a rotating schedule of 4 days on and 2 days off with 14 paid holidays annually.
1 to 5 years of service 19 vacation days
6 to 10 years of service 22 vacation days
11 to 15 years of service 25 vacation days
16 + years of service 27 vacation days
Medical, Dental, and Prescription coverage
Liability and Life Insurance
Salary step increase incentives, starting after 4 years of service of 8.5 percent increasing to 13.5 percent after 24 years
Pension of: 50 percent after 25 years of service
60 percent after 30 years of service
70 percent after 35 years of service
Clothing replacement and maintenance allowance.
Opportunities to join Specialized Units/Divisions including: SWAT, Dive Team, Marine Patrol Unit, Crisis Negotiation Team, Detectives, Community Police, Traffic Division, Police Athletic League (PAL), etc.
PHYSICAL FITNESS ASSESSMENT 40th PERCENTILE


Assessment Battery

(Male)

Age

<20

Age

20-29

Age

30-39

Age

40-49

Age

50-59

1 Minute Push-Up

29

29

24

18

13

Sit Ups

41

38

35

29

24

1.5 Mile Run

12:38

12:38

13:04

13:49

15:03

300 Meter Sprint

59.0

59.0

58.9

72.0

83.2
Assessment Battery

(Female)

Age

<20

Age

20-29

Age

30-39

Age

40-49

Age

50-59

1 Minute Push-Up

15

15

11

9

n/d

Sit Ups

32

32

25

20

14

1.5 Mile Run

14:50

14:50

15:38

16:21

18:07

300 Meter Sprint

71.0

71.0

79.0

94.0

n/d
The City of Warwick is an Equal Opportunity Employer and complies with the
Americans with Disabilities Act as well as maintaining an updated E.E.O.P.
Women and Minorities are encouraged to apply.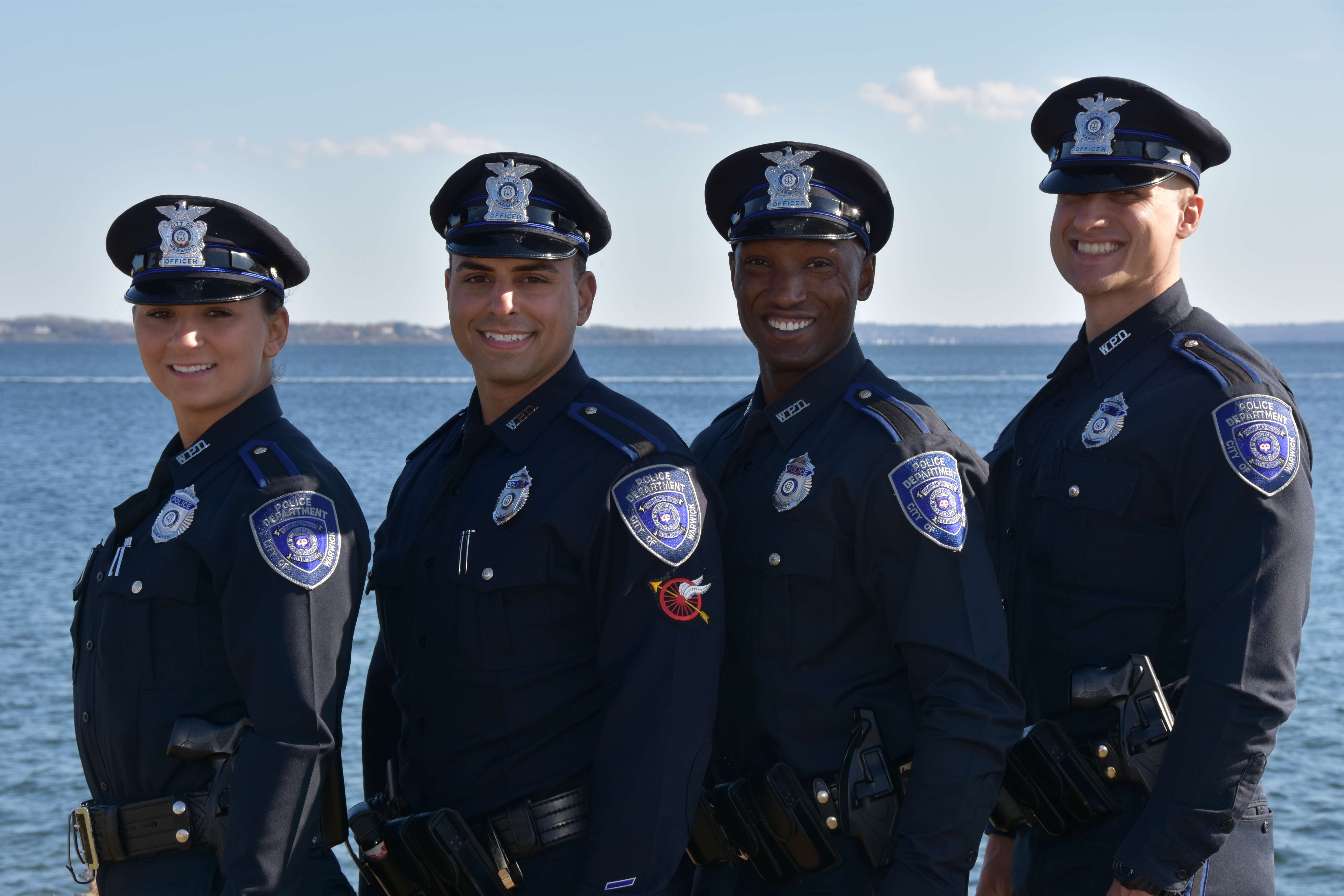 Please direct questions regarding this position to jeremy.smith@warwickri.com
Jobs close at 11:59 PM (Eastern) on the deadline date specified, or when the position capacity has been met, or unless otherwise specified in the announcement. If the deadline date is not specified in the announcement, the agency has sole discretion on setting the deadline and jobs may close without notice. It is the applicant's responsibility to thoroughly read and understand the deadline requirements and capacity limits as outlined by the agency.

Applicants are responsible for checking their email and logging into their PoliceApp, PublicSafetyApp, FireFighterApp or EmployementApp account to monitor for emails, scheduling and process updates.
Login & Apply Now